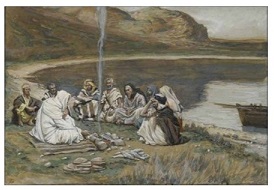 Men's Breakfast (Saturday 27th May)
The Men's Breakfast will take place in the Parish Centre on the last Saturday of each month. Our next meeting will be, Saturday 27th May. We meet at 9h00 and it lasts around an hour. We'll enjoy coffee, croissants and fruit juice and we'll also enjoy each other's company. The atmosphere will be informal and relaxed.
If you would like to come to the men's breakfast, you will be very welcome. Open to all men over 18 years. Special Guest Speaker: Archbishop Fortunatus Nwachukwu recently appointed Secretary to Dicastery for Propagation of Faith in the Vatican.