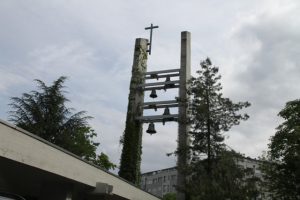 St John XXIII Parish was officially established within the Diocese of Lausanne, Geneva and Fribourg in 1971. We are a linguistic rather than a territorial parish, made up of more than 100 different nationalities who share English as a common language. Our Parish's diverse community is a true microcosm of the universal Church!

The origins of our Parish go back to 1956 when an English-speaking Catholic Chaplaincy was first established in Geneva. This Chaplaincy's mission was to provide for the spiritual needs of the growing English-speaking community drawn mainly from the international business sector, expanding inter-governmental and non-governmental organizations, and diplomatic representations to the United Nations. Over the years, our Parish community has grown considerably and become increasingly diverse, with parishioners now coming from every walk of life and corner of the globe.

The Parish was based at the Pope John XXIII Centre in Petit-Saconnex from October 1982 until February 2013. We then moved to St. Nicolas de Flüe Church at rue de Montbrillant in March 2013 primarily to accommodate our community's growing numbers. Our current premises now offer twice the space for worship, ministries, religious education and community gatherings.

St. Nicolas de Flüe Church
This important historic church at the heart of international Geneva was designed by François Bouvier and Virgilio and Jacques Malnati and consecrated in 1967. The church was visited by Pope Paul VI in 1969 and Pope John Paul II in 1982, and was originally home to the French-speaking Parish of St. Nicolas de Flüe. By mutual agreement and with the blessings of our Bishop, the two Parish communities agreed to exchange premises, with St. Nicolas de Flüe Church and its adjoining Parish House becoming the new "home" of the English-speaking Parish of St John XXIII in March 2013

The Parish House
The Parish House adjoining St. Nicolas de Flüe Church was completely renovated in 2011-2012 to provide for the growing needs of St John XXIII Parish. The upgraded Parish facility was officially inaugurated in June 2013 by Bishop Charles Morerod. The facility now has multi-purpose rooms totalling more than 500 square meters for religious education classes, ministry & prayer meetings, musical practices, sacramental preparation and for rental to outside groups. The facility also houses accommodation for two priests, as well as visiting clergy, and office space for the Parish's administrative and ministerial teams.