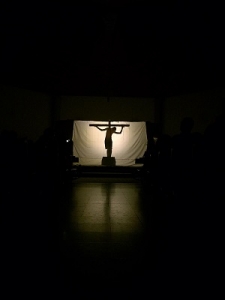 The youth presented a beautiful rendition of the Stations of the Cross on Friday, 23 March at 19:30.
They used shadow figures to present an artistic depiction of each station, with reflections by our parishioners read aloud in accompaniment of each station. The congregation sang several songs together and listened to several others as meditations. Altogether, this was a lovely event to conclude our Lenten journey. The youth took up a collection and raised CHF 450 towards their trip to World Youth Day in January of 2019. Many thanks to those who donated to support our young people.
May God bless your Triduum and may you have a most joyful Easter!