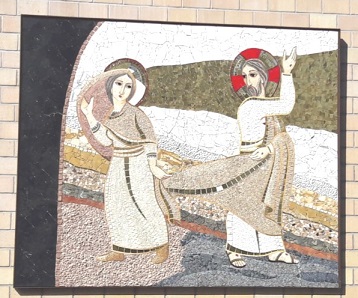 Chemin de Joie
A pilgrimage on foot will take place on April 28 (Sun). There will be a stop along the way, at the eglise protestant, Montbrillant. (opportunity for picnic, light lunch).
The pilgrimage will set out from here after the 11h30 Mass. We will be joined by the francophone community of St Jean XXIII from Petit Saconnex, they will be arriving at our Parish at 12h15 for a short reflection.
After Eglise protestant, Montbrillant, travel by bus 5, to Cenacle for a welcome and chance to meet Fr. Marko Ivan Rupnik the artist who created the beautiful Mosaics, that mark the chemin de Joie, he was born 28 November 1954 in Zadlog, Slovenia near Idrija. In 1973 he entered the Society of Jesus.
Since September of 1991 he has lived and worked in Rome at the Centro Aletti, of which he is the director. His work as an artist and theologian has always been complimented with work that is more specifically pastoral, above all in leading numerous courses and retreats.
The day will finish with a celebration at 16h00 in Cenacle led by abbé Pascal Desthieux.