The Youth Ministry is in charge of the youth (ages 14 to 18) in our parish. Their activities include the Confirmation Programme (a 2 year programme), organising retreats such as Kairos and other youth related fundraising activities.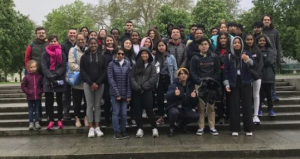 The Director of Religious Education, Anna Berkeley manages the youth program. For more information please contact her at dre(at)johnxxiii.ch or call the Parish Office during office hours.

"Our Director of Religious Education, Anna Berkeley was born and raised on a farm in Co. Meath in Ireland. She studied European Studies with French and Spanish in Trinity College Dublin before training as a primary school teacher in London. She taught for several years in the UK and Ireland before moving to the U.S.
There she studied for a Masters in Theology at the Dominican House of Studies in Washington D.C. which led her to work for the Office of Youth Ministry in the Archdiocese of Washington.
In 2018 she moved to Geneva with her husband Matthew and baby son Finian. They are really enjoying life in Switzerland, and love exploring new places and going on hikes at the weekend."