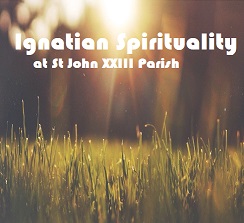 The Ignatian Spirituality Community (ISC) in Geneva would love to have you join fellow pilgrims in all or any of the upcoming events:
Virtual Advent retreat in the Holy Land : starting Saturday 21 November
Do you want to do something different for Advent this year? If so perhaps this is something for you.
We would love to have you join us, your fellow pilgrims, on our virtual Advent Retreat. We will be exploring and sharing the Holy Land with each other in a near real time environment over 5 consecutive weekends. You may dip into and join which ever tour or session is of interest to you. This means you can attend 1 or all the sessions and tours.
How?
This will be an interactive online programme with the tour guides and lecturers based in the Holy Land.
Where?
From your home via Zoom (if in a group) or YouTube (individually)
What?
A weekend will consist of 3 main components:
An online tour with our own tour guide to some of the most significant sites in Jerusalem, Nazareth, Bethlehem and the Judean Desert.
A lecture by renowned Jewish and Christian Biblical Scholars on the Advent Biblical events and happenings
A spiritual reflection on how these places, events or scriptures are relevant to us today!
When?
The online tours will be on Saturday's from 14.00-15.30 CET.
The lectures will cover the lectures, discussions and reflections from 14.00.16.00 CET
II. Advent retreat starting on 21 November : This year we will be experience real time the Holy Land during our advent retreat. With our local tour guides, we will visit key places in Jerusalem, Nazareth, the Judean desert and Bethlehem and be able to interact with our tour guides in real time. We will also have 5 lectures by various Jewish and Christian scholars to deepen our understanding of our faith and the Holy Scriptures, with opportunities to ask them questions. To round off each weekend of activities, there will be an opportunity of spiritual reflection – either individually or in a group on the relevance of what we have learnt and heard.
III. Growth in Prayer and Reflective living course (GPRL) starting on 18 January 2021: There are still a few places open on this course. On this 9 month course you will learn about various ways of prayer and reflective living skills. If you are wanting to draw closer to God, deepen your prayer life or want your choices to be made in tune with God's dream for you, then this may be the course for you.

WANT TO KNOW MORE?
If you want to know more or register for any of the above events and courses please visit the ISC Geneva website or contact info@isc-geneva.ch.
Check out our flyer here for more info.